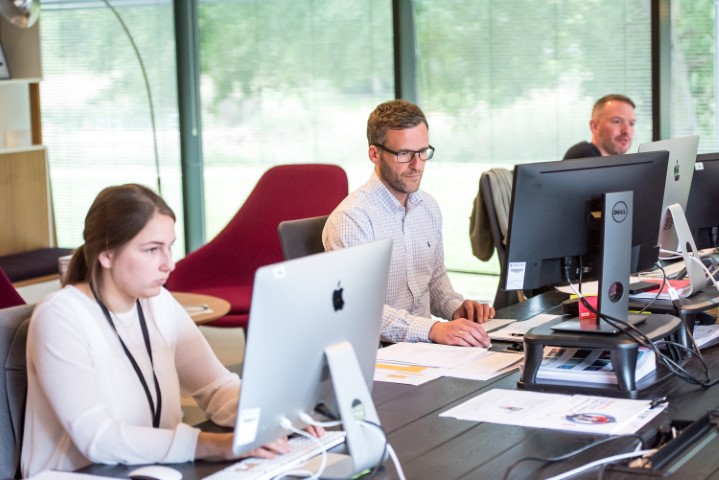 DeepWell Data Services is committed to providing customized products and individualized service to each of our clients to meet the unique needs of their project or business. Unlike large corporations that manufacture and mass-produce "one-size fits all" software, each software package that DeepWell Data produces is designed according to the exact specifications of your data-tracking needs, giving you all of the tools you need and eliminating costly, unnecessary, and often confusing "extras".
Great thought and care goes into the design of each of our products and an integral part of this process is a detailed analysis of your individual data-tracking needs. We meet with each of our clients and endeavor to learn everything we can about their project, the services it offers, and the stipulations set by their financiers. We then can help clients identify the information they need to track and report and help them determine what sort of system would best accomplish these goals. Because we work closely with grant-evaluators and business, education, and government entities, we can provide comprehensive and proven solutions for complex projects even if our clients are new-comers to their program.
The Process
Once we have determined the technical needs of our clients' projects, we begin a four-stage process to build a product that meets those needs.
Design: Working closely with our clients we propose and draft various software tools that meet both the functionality specifications of their data needs as well as the look and feel appropriate to their individual projects.
Development: Once we have designed the necessary tools, we synthesize them into a seamless web-based program that collects, compiles, and reports our clients' data in a way that most efficiently furthers the goals of their projects.
Deployment: Finally, we work with our clients to launch these tools across their organization, allowing wide and individualized use of the tools, while implementing custom privacy and access settings designed to protect privacy and mesh with the organization's structure. (All of our tools are built on a web platform so that clients can access them worldwide whenever they connect to the Internet.)
Training: Included with all of our software packages is initial on-site training for all users, where we can demonstrate the capabilities and functionality of the new data tools to ensure our clients can maximize their use of our products.
Tool Components
Following is a sample of some of the tool components that can be incorporated into your data-tracking package. We are always adding new components to this list.
Surveys
Assessments
Contact/E-mail Forms
Calendars
Data-Entry Forms
Document Upload Portals
Case Management Forms
Report Cards
Attendance Forms
Progress Blogs
Graphical Charts
Data Gauges
Reporting Functions
While our services will dramatically improve our clients' ability to collect and store necessary project data, the primary value of our tools is in their dynamic reporting functions. Even complex data arrays can be quickly and easily compiled into a customized form at the click of a button. All of our reporting features are flexible, dynamic, targeted to specific client needs, and formatted for a professional look and feel.
For our clients who are recipients of federal or state grants, we design reports that automatically produce a large portion of the Annual Performance Report, but we can also design reports that analyze and compute a wide array of numerical data.
Tool Features
Accessible anywhere: our tools are web-based, so clients can use them wherever they can connect to the Internet
Simple and self-explanatory: our inline, tooltip-based help system gives you the info you need, when you need it
Dynamic: our tools generate clear, Flash-based charts and graphs that draw on all available data in real time, on demand
Secure: our tools are built on 128-bit SSL encryption technology, so clients' sensitive data stays safe from prying eyes
Role-based: our tools let clients give different privileges to different people, so users can see and change only what they should given their responsibilities